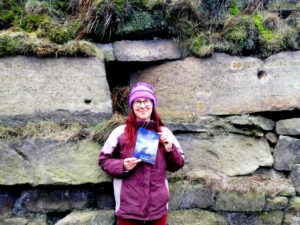 Testament speaks to poet and theologian Hannah Stone about how walking inspired her pen-name, the connections between poetry and theology and how Hannah went from teaching theology to writing poetry.
Hannah Stone has published three collections of poetry, and is also published in many journals and anthologies including the Beautiful Dragons publication Noble Dissent, which features poetry on or by dissenters, and Holding up Half the Sky (with Rosemary Mitchell) Hannah and Testament gives voice to oppressed women, real and imaginary, through history. In another life as Hannah Hunt she was a Reader in Eastern Christianity at Leeds Trinity University, and researched inspiring women such as St Macrina and St Mary of Egypt.
Hannah has an MA and PhD in theology, a BA in English and an MA in Creative Writing. When not writing she sings, grows organic produce and walks in the Dales. She hosts the Wordspace open mic event in Horsforth each month and co-convenes the poets/composers forum for Leeds Lieder festival. Her first major collaboration with composer Matthew Oglesby, the Penthos Requiem, drew on her Phd research and formed part of Leeds' commemoration of the centenary of the ending of the Great War in 2018.
Hannah and Testament also discuss the Leeds Poetry Anthology, which is open for submissions until 31st October. Find out how to submit your poems at LCILeeds.org/poems