Revd. Tom Lusty, LCI member and Vicar at St Giles, Bramhope reflects on ministry spent as a full-time hospice chaplain in the context of Covid-19.
At a Lent lunch I was once given the remit, "Jesus: Anguished and forsaken". Unfortunately the publicity went out as "Revd Tom Lusty, Chaplain at Wheatfields Hospice: Anguished and forsaken". The thing about death is that it can be associated with anguish and forsakenness, something that one would rather avoid if at all possible.
Given the five years I spent inhabiting a hospice on a more or less daily basis I now know that death isn't all that bad. It can sometimes be protracted and exhausting for all concerned. But even in such circumstances a good death is possible. With a good death there is a tangible sense of completeness, of dying with integrity.
To be honest I did not spend a great deal of time talking about death at the hospice beyond using euphemisms for it. For some of the nurses heaven was their euphemism of choice for death: "Gladys has gone to heaven now – God help them all up there". I did speak, however, about my Christian faith when invited to do so, and the opportunities that came my way to speak about resurrection hope were considerable.
Within our tiny specialist world hospice chaplains have developed a repertoire of material that enables people to prepare spiritually for their own dying. Three resources that were and remain helpful to me are Mud and Stars, which gave me the theology, Tom Gordon's A Need for Living which gave me the metaphors, and John O'Donohue's Benedictus which gave me everything else: when there is nothing else you can do, you can always bless. That is a powerful thing to be left with – if you can bless sublimely, even better.
Dying is not about so much anguish and forsakenness. A good death is a movement towards integration – from "dislocation to relocation, from disorientation to re-orientation, from disintegration to re-integration" as Mud and Stars puts it. Part of a wider crucifixion/resurrection dynamic where we are always on the lookout for resurrection.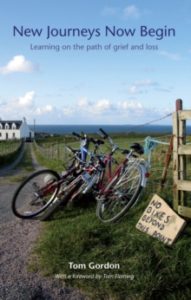 The cover photo of a book by Tom Gordon entitled New Journeys Now Begin depicts the access path to north beach on the Island of Iona. The inscription reads "No bikes beyond this point". For each of us there will come a point where we have to relinquish the bike to go on the next stage of the journey. Getting off the bike can be painful because we get used to cycling everywhere. The more in life we can put the bike down and enjoy the view, the better prepared we will be for that moment in life when we will each have to "say goodbye to the bike". As it were. This is a metaphor. A metaphor for resurrection.
As well as using metaphors a lot a group of hospice chaplains adopted a mnemonic as a helpful way into conversations about dying. The HEALER model goes like this:
H is for Hope – what takes people in a trajectory away from despair.
E is for Exploring Feelings – encouraging people to articulate their feelings.
A is for Adjustment to Loss – exploring how significant loss is transcended.
L is Looking Back – doing a life review: anything significant left unresolved?
The E and the R stand for Existential and Religious issues – some people are terrified of death for reasons that go beyond fear of the physical process of dying. I put that under 'Existential'. Religion comes last of all. That is healthy because it says not all our needs are religious ones. We may choose to express our grounds for hope in religious terms but never exclusivelt so.
The HEALER mnemonic provides us with six different prompts as a helpful way into a conversation about dying. These prompts are not to be tackled exhaustively in chronological order (imagine how awful that would be) but rather as a means of focussing on some of the ways in which the conversation might go. 
Given that Easter this year coincides with the beginning of the six to eight week peak of the Covid-19 pandemic in the UK using prompts from this mnemonic might be helpful during that time if we wanted to reflect on our own mortality. Devoting a little space to reflect on our own dying (say ten minutes, once a week) will certainly make us more open to engage with others who may be starting out on the process of the end of life's journey.
When someone asks "what hymns are you having for your funeral?" a closed response "goodness, I have never thought of that" may not always be adequate. A more open-ended, personal response to the question might well allow the questioner to fulfil a need to talk openly about death.
In any Christian model of spiritual preparation for dying you can't leave out the letting go …and the leaping. John O'Donohue describes the daily handing over of one's life as the act of awakening and surrender. The possibility of this daily practising of such a hand over, however we may choose to do it, of our lives into the life of God may well be what makes us most Christ-like. 
Each morning we awaken to the light… each night we surrender to the dark… Awakening and surrender: they frame each day and each life; between them the journey where anything can happen.
John O'Donoghue, Anam Cara  
The HEAL(ER) mnemonic was devised by Revd Linda Elliott, at one time Chaplain at Thorpe Hall Hospice in Peterborough. 
Books mentioned in this article:
Mud and Stars: The Report of a Working Party on the Impact of Hospice Experience on the Church's Ministry of Healing
A Need for Living: Signposts on the Journey of Life and Beyond Tom Gordon and New Journeys Now Begin Tom Gordon
Benedictus: A Book of Blessings John O'Donohue 
Anam Cara John O'Donohue