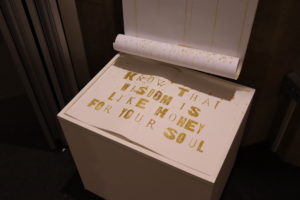 As part of the launch of the 2020 Arts and Theology Bursary we were delighted to be joined by artist Sharon Caton-Rose who spoke about her work as an artist and how art and theology can work together.
Shaeron has been exhibiting her art for over 20 years and her work explores the meanings and narratives behind assumed realities, both in terms of faith and other ideas about 'how the world is'.
Shaeron's artwork, Taste and See (above), which has honey slowly dripping down onto the quote, "Know that wisdom is like honey for your soul" (Proverbs 24:14) was also on display at the event.
The 2020 Arts and Theology Bursary is funded by the Leeds Church Institute and offers joint bursaries of £5,000 over a six month period to a collaborative pairing of a Community Theologian and a Visual Artist.
If you are interested in applying for the Bursary you need to submit an expression of interest to [email protected] by 3rd December 2019.
Shaeron has very kindly shared her presentation from the evening as a Powerpoint, which can be viewed below.