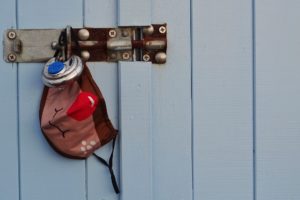 As I write, the country has just shifted from the second full lockdown to a return to the 'tiers system' which juggles at a supposedly local level the governing of infection control with sustaining the economy. Leeds had been on the verge of entering tier three when the complete lockdown started on 5 November, and we've emerged into a more stringent version of tier three. On the face of it not very much feels changed – more shops are open, and we can once again meet up to six people outside. But it will be different. It comes hard on the heels of announcements about a festive relaxation of restrictions to cover a five day period over Christmas. Quite how that affects any of you reading this will depend a great deal on your circumstances, expectations and current state of health.
Yesterday I was fortunate to be able to attend a zoom session at LCI on end of life care and pastoral visiting. This may sound like a gloomy subject – how do we come to terms with the end of our lives, and the ending of the physical lives of our loved ones – in the face of much reduced physical proximity to others during the pandemic. As some folk have observed, this will be the last Christmas on earth for some people. Set against that is the Christian hope of the resurrection. The session was actually very uplifting and inspiring; not least in the sense that amidst the sadness of a final journey is the comfort of being accompanied spiritually.
I mentioned recently that the season of advent is one of preparation and reflection as well as excitement and hope, and I guess that covers the fact that one thing we can all prepare for is our own demise. Life on earth is different to life in heaven, however we envisage that. Different cultures handle death in very different ways. Here's a poem I wrote about that. May you all find comfort as you reflect on departed loved ones at this time.
'All Change'
 (After Thanatologist David Kessler)
'There is a tribe which honours how death
changes everything.
When the bereaved family open their eyes
to the first full day of loss, they see this,
for, overnight, every household in the village
has moved something out into the yard –
a chair, a table, any belonging.
My urban northern tribe pretends
the only difference is absence. We dump
the soiled Parker Knoll into a skip, bury
unwanted stuff in landfill.
We hold quiet ceremonies in cold buildings
and, after a decent interval, 'move on.'
'Late' is what the dead are called
in cultures where they know about being present.
My mother is not yet 'late', but she has missed
her time to shine, and all the furniture
in her brain is being re-arranged
round spaces where her memory lived.
'How long will I grieve?' we ask the therapist.
'How long will your loved one be dead?' she replies.'
Photo by Belinda Fewings on Unsplash