Meet Luke Walwyn!
Each month we welcome an artist from Leeds to show their work at Leeds Church Institute. We ask them to choose a piece of their work that fits with our mission statement 'Learning as a Faithful City' or create a brand new piece of art in relation to our current work.
In December, we feature the work of Luke Walwyn, Art Director and Illustrator who was lead artist for our listening project 'Journey to the Manger' based on the 'Birth of Jesus' gospel story telling of Mary and Joseph's journey from Nazareth to Bethlehem to be counted in the census.
We asked Luke about the project, "We were pleasantly surprised with the reflections we heard in Kirkgate Market when we asked the question 'What does Journey to the Manger' mean to you? Most people were tuning in to the Nativity story that has been circulated for thousands of years, and we hear some up to date reflections from shoppers and stall holders alike"
Luke's role as lead artist on the project, was to turn the voices heard in the project into an illustration to be used in the Winter 2022 edition of Citytheology.
We asked Luke why this work has been of interest to him, "Faith has been an important part of my entire life, and the most important thing for me in this process was to capture the essence of the voices we heard in the city of Leeds. So, my job was to collate images of people in the markets, the architecture and capture the rhythm of the market. I put all those elements together to create a really powerful introductory piece of art for the magazine."
At a recent contributors' lunch, Luke unveiled his artwork and presented it to Helen Reid, Director of  Leeds Church Institute.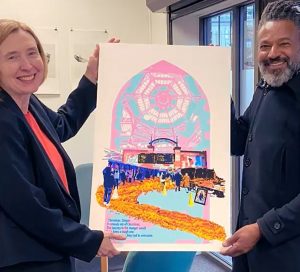 'The Journey to the Manger' illustration is available to view at the Leeds Church Institute until 5th January 2023. If you would like to come to see the original artwork or loan it for use in your faith organisation or community get in touch with Bronagh Daly, Faith and Creativity Lead [email protected]