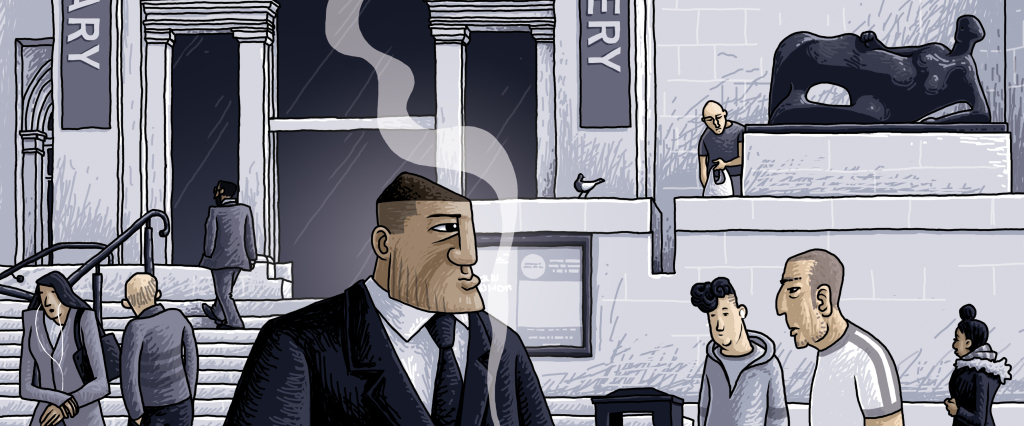 Signs by Si Smith
Signs, the new graphic novel from Si Smith (How to Disappear Completely and Abide With Me), is filled with images of the city centre in Leeds and explores the positive impact of strangers amongst us. You will be struck by the places you recognise, and your sense of recognition of bigger truths in the short stories it contains.
Signs places a high value on the contributions of diverse people, whose names are often not known and who might just be passing through the city, and shows the difference their acts of kindness, action or support can make in people's lives. It is inspired by portrayals of angels in the bible and also in popular culture. Signs is relevant for people in Leeds of all faiths and no religious faith. It is about the city that we inhabit and create together.
Order the comic now for £7.50 (£2.50 P&P)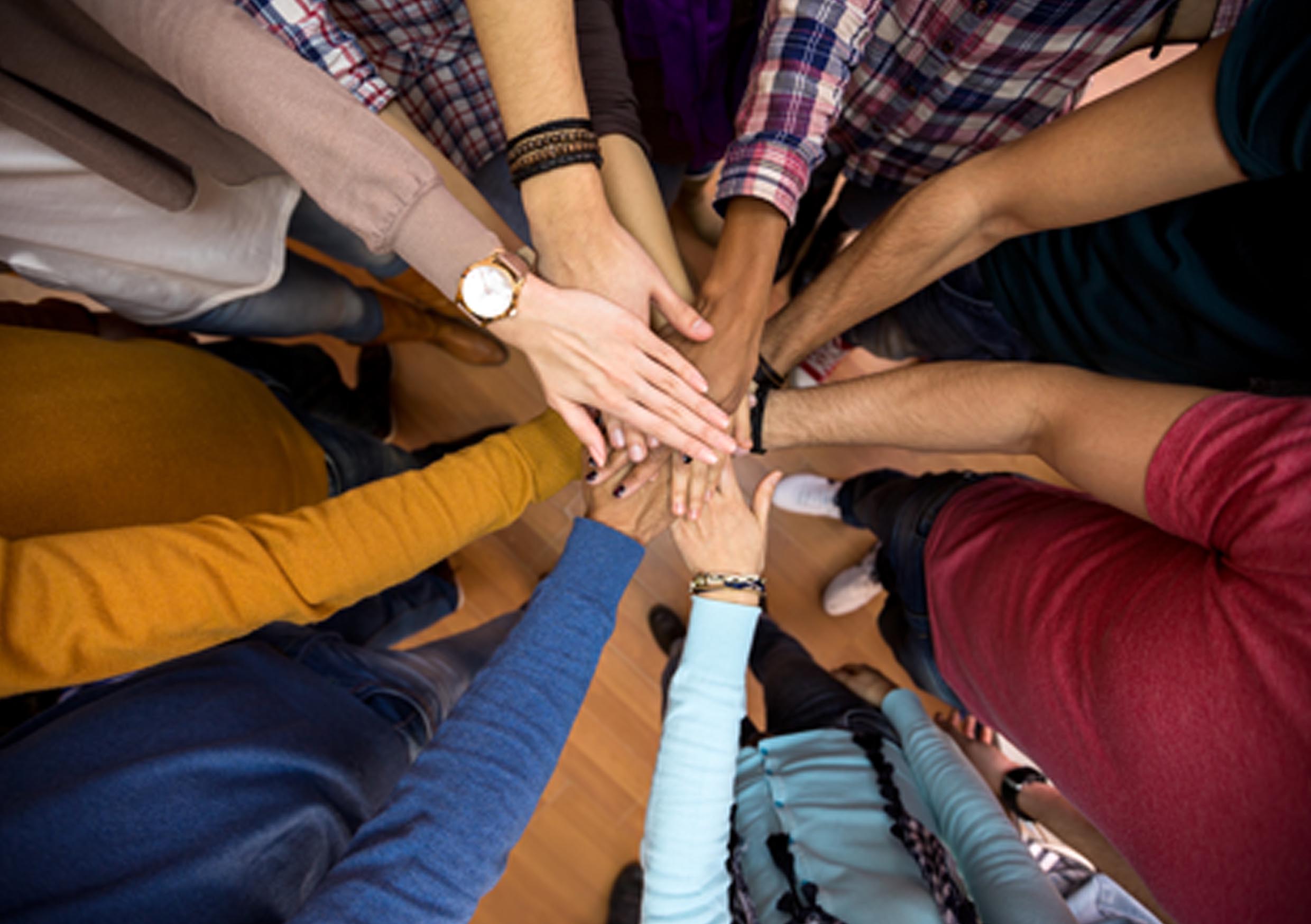 Research Into Ecumenical Mission In Leeds
"Leeds is a place where ecumenical things happen," said the late Lewis Burton, first Ecumenical Officer for West Yorkshire. In a 2015 Ecumenism in Leeds report by Sue Hoey, on behalf of Leeds Church Institute, there was a similar statement; "Over the last ten years ecumenical activity in Leeds has blossomed…" 
These claims are evidenced by the scope, breadth and variety of the 75 plus ecumenically-based projects that are now operating in the Leeds District. In broad terms, the projects are tackling challenges around poverty, homelessness, hunger, housing, education, cross-cultural mission, and issues affecting ex-offenders, pregnant women and sex workers. There is also a lot of work focused on students, youth and children. Given this positive picture, what can we learn and what are the life-giving ingredients that have given rise to ecumenical mission in Leeds?
Paul Lancaster conducted research into ecumenical mission in Leeds on behalf of the Leeds Church Institute, You can read the full report here.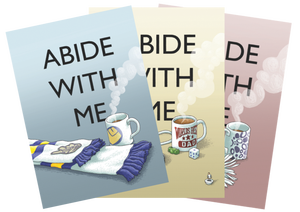 Abide With Me
Abide With Me is a comic, inspired by the commemoration of Candlemas, that explores some aspects of life with memory loss.
Each comic tells the story of one weekend from a different perspective; a father who is suffering from dementia, his wife struggling to take care of him, and the son who is trying to help.
Written and beautifully illustrated by Simon Smith, whose previous work How To Disappear Completely (below) is available from Valley Press, Abide With Me is relevant for people in Leeds of all faiths and no religious faith. The comics value the perspective and insight of older people who have lived their lives faithfully, hoping that the best is yet to come; and show that when different generations live well together, they are greater than the sum of the parts.
Abide With Me is no longer available
Leeds Country Way Pilgrimage
As a group of LCI members and staff, we walked the Leeds Country Way as a pilgrimage in sections between September 2016 and August 2017. We highly recommend the experience of a local pilgrimage when you can grow in appreciation of and reflection on our city of Leeds and its environment. To help we have put together this short guide which will help you with transport and reflection.
I hope you enjoy reading the booklet and the lovely photographs it contains. It would be delighted if you have feedback to offer or to hear if you are considering walking it yourself.
Our booklet provides guidance for the pilgrimage aspect of the country way, but if you also need help finding your way around the route you will want to visit Leeds City Council's Country Way page.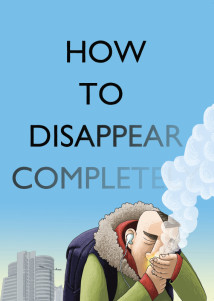 How to Disappear Completely
How to Disappear Completely is a comic for Lent and for Leeds commissioned by Leeds Church Institute and illustrated by Simon Smith. The comic reflects on some of the themes of Lent, and particularly the story of Christ's forty days in the wilderness. It also reflects something of the realities of life and faith in modern-day Leeds.
Folk local to Leeds will recognise some of the locations that Si has used, (not least the derelict council offices on the way out of the city to the M621), and all of the characters and people in the comic have been observed and drawn around Leeds
"How to disappear completely is a comic that was written for Lent and for Leeds so it's basically built around Christ in the Wilderness. I'm reluctant to say too much about it because I quite like people to come to it and find what they think it's about."
"I like the idea that people will use it in Lent and won't just read it and put it on the shelf going 'I've done that' but that they can read it and find something else in it. I've put things in there that people can find, there's hints to things, and there's references to songs, so if you've got the patience, and the interest you can look at it and go, 'oh yeah'".
How To Disappear Completely has been picked up by Valley Press, so it is no longer available through LCI, but you can find it on sale at the Valley Press website.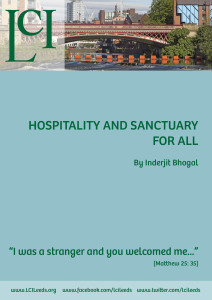 Hospitality & Sanctuary
This resource, written by Inderjit Bhogal, offers prompts for conversation and reflection on the theme of hospitality and sanctuary. Though people of different backgrounds are involved in the work of hospitality and sanctuary, this is a resource produced for Churches. This resource is free to use. Please let us know if you do!
Download Hospitality and Sanctuary for All
About Inderjit:
I was born in Nairobi where I lived till the age of 11 in 1964. Kenya achieved independence, and with my parents and family I left for The UK, via a nine month sojourn in what was then Tanganyika. My first home in this country was in Dudley, West Midlands.
From my earliest days of life in the UK people of Asian backgrounds talked with me, because I was fluent in English, about their immigration concerns and forms.
So personally, rather than professionally, I have become familiar with immigration matters, policies and procedures. I am familiar with the fears, frustrations, and pains of people of all backgrounds around these. I have determined to take simple steps to seek justice and mercy in policy and procedure.
As a Methodist Minister, and Pastor, I have worked with others, especially in Churches, to critique and challenge policy and procedure where it has been unjust and discriminatory. I have supported many campaigns to challenge unjust deportations orders. In the 80's I supported people taking sanctuary in Churches. I chaired the Sanctuary Working Group of the British Council of Churches.
In March 1997 I walked from Sheffield where I live, to 10 Downing Street, with a letter to the Prime Minister asking that Asylum Seekers are not detained in conventional prisons alongside convicted criminals, and for a fairer deal for Asylum Seekers. I also walked from the Home Office to Campsfield Detention Centre in Oxford for the same reason.
As President of the Methodist Conference in The UK [2000-2001] I visited all the Detention Centres in The UK and Northern Ireland, following which I wrote a reflection entitled "Unlocking the Doors" [2001]. I sent a copy to the Home Secretary.
In October 2005 I called a meeting, with Craig Barnett a Quaker colleague, to launch the City of Sanctuary initiative. In 2007 Sheffield was declared UKs first City of Sanctuary. When others asked how they could follow this idea, to assist, Craig and I wrote a short book entitled "Building a City of Sanctuary" [2010] with inspiring practical ideas.
There are now 30 Cities/Towns in The UK and Ireland working with the City of Sanctuary vision, to build cultures of welcome and hospitality, Cities we can be proud to live in. Visit the City of Sanctuary website for more details, watch a short video, and study the Birmingham Declaration and criteria for action.