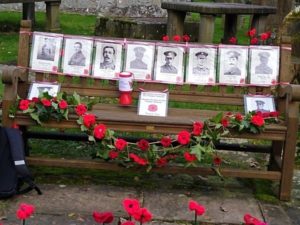 At this time of year we call to mind the departed, especially those who died in warfare, and normally we'd see people out and about wearing poppies, both the red ones associated with the poignant flowering on Flanders fields, and also white ones encouraged by Quakers to focus on peace. With England in lockdown again, Remembrance Day like so much else was 'different' this year. The British Legion, who make and sell thousands of poppies to fund their work with veterans, urged people to get creative in finding different ways of marking the day. People have been posting poppies in their windows and making displays to mark the occasion. Churches are once again closed to congregations, so they, too, had to adapt. On a recent walk with a friend, we stopped to pay our respects at the gorgeous little church in the hamlet of Hubberholme. The churchyard was blooming with knitted poppies, and the bench where (in other circumstances) we might have rested had been turned into a touching memorial to the lads from the village who had given their lives in the Great War.
I should perhaps apologise for dwelling in the past; there are so many awful warzones today all over the world. But there is something about the falling leaves, the dark misty days we've been having that fosters a sense of looking inwards, looking back. Around All Soul's Day and All Saints' Day many of us do remember the departed, and sometimes it's helpful to enter into those deep feelings and then, like a wet dog, give yourself a good shake and move on into the sunlight, looking to the future as well as treasuring the past.
I'm staying with the nostalgia, though, for my poetry and also a music link. This is a setting of one of A E Houseman's Shropshire Lad sequence of poems set by Yorkshire born George Butterworth, who died in action in 1916. The baritone is Dan Kempson – as so often, the pianist is unacknowledged!
Rupert Brooke's poem 'The Soldier' is very much associated with World War One. Brooke died in 1915, not from wounds (though he was on active service) but from sepsis following an insect bite, a grim reminder of how fragile life was before antisepsis. Let's also look to the future with the welcome news that a vaccine is in reach, which will so alter how we live with Covid19. May we have 'hearts at peace.'
If I should die, think only this of me:
That there's some corner of a foreign field
That is for ever England. There shall be
In that rich earth a richer dust concealed;
A dust whom England bore, shaped, made aware,
Gave, once, her flowers to love, her ways to roam;
A body of England's, breathing English air,
Washed by the rivers, blest by suns of home.
And think, this heart, all evil shed away,
A pulse in the eternal mind, no less
Gives somewhere back the thoughts by England given;
Her sights and sounds; dreams happy as her day;
And laughter, learnt of friends; and gentleness,
In hearts at peace, under an English heaven.
Picture credit: Julie Kilburn (Hubberholme Parish Church, November 2020)