Leeds Church Institute is an accredited Living Wage Employer!
The NEW #LivingWage rates for 2022/23 are out!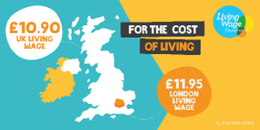 LivingWageUK's UK and London Living Wage rates have risen, meaning a pay-rise for hundreds of thousands of workers like ours.
What is the difference between @LivingWageUK's real #LivingWage and other UK wage rates?
Only the real Living Wage is:
– Based on the cost of living
– Applies to all over 18's
– Has a London rate
The difference earning a real Living Wage makes compared to the government's 'National Living Wage' amounts to £2730 a year across the UK, and £4777.50 for workers in London. This is a significant difference for households trying to keep up with rising living costs. Find out more: https://www.livingwage.org.uk/what-real-living-wage
Concerned about how the cost of living?
You can help by becoming a #LivingWage Employer like us, providing security & a long-term commitment to pay a wage that covers the cost of living every year.
New rates out this week: https://www.livingwage.org.uk/news/2022-23-real-living-wage-increases