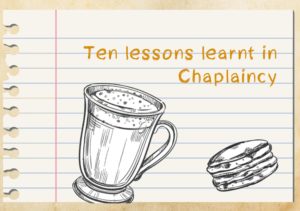 By Sarah Derbyshire, Chaplain at Bishop Young Church of England Academy in Leeds
My road to becoming a Chaplain began aged 16 when I first encountered chaplaincy and my understanding of how the education sector can support students and staff changed forever. I first experienced chaplaincy during my first week of sixth form. Whilst sat in my Philosophy of Religion class, the smell of toast and freshly brewed coffee hit us. It was the Chaplaincy Tea and Toast Tuesday. Since that day, chaplaincy has been at the heart (and stomach) of my sixth form, university and work life. I'm now a chaplain in a high school. I have found taking time out to reflect on lessons I have learnt as a student and a chaplain to be helpful to my current practice. Here are some of the valuable lessons I have learnt, and keep learning.
Lesson 1: You can never have enough hot chocolate and custard creams.
Food is at the heart of chaplaincy… or at least my chaplaincy experience, and now my chaplaincy. You don't have to turn many pages of the Bible before you stumble across a passage or verse that talks about the importance of feeding people. From feeding the 5000 (plus the women and children) to Jesus turning water into wine, and the Eucharist, food is of central importance. The same can be said within the education sector. Having something as simple as an extra cup, a tea bag and a barrel of biscuits can change your chaplaincy from just another room in your school to a safe haven, something familiar and a 'home away from home', especially so for university students. It didn't take long for the word to get around my school that biscuits are in the chaplaincy office. There's no better feeling than students and staff feeling comfortable enough to walk into my office, grab a biscuit and walk out without feeling the need to justify themselves – that's when I know I'm doing something right!
Lesson 2: Keep it relevant.
It's no secret that the Church often seems out of touch with the rest of the world, like it is '50 years behind' everyone else and the things that obviously need changing and updating take decades to do just that. Students often expect chaplaincy to be out of touch and with out of touch messages. Chaplaincy needs to be relevant! As chaplains within education I believe we have a duty to keep up to date with what our students and young people want, need and are experiencing. As a twenty-two-year-old, it's not that hard for me to keep up with the latest trends and frustrations but it's something my students really value and appreciate. It's a door opener to all sorts of conversations.
Lesson 3: Don't be afraid to take risks.
In my role as chaplain, I find myself responding to what is going on in my environment and workplace daily. Different events take place which can put me in a 'first time' situation. First time situations have included something as big as responding to a community event which has changed the needs and hurts of our school, and something as small as starting up a new group. When this happens, it's important to measure and take appropriate risks. Even when the risk I have taken didn't produce the intended or expected results, I don't think that means it shouldn't be refined and tried again.
Lesson 4: It's okay to play to your strengths.
Taking the time to figure out what my own personal strengths and weaknesses were and how they could benefit my students, colleagues and chaplaincy when I first started my job was one of the most pragmatic and useful tasks I have ever set myself. Something as simple as writing a list of what my school wanted to see, how they wanted it implemented and what my skills were has equipped me to take on a whole abundance of different tasks. Often, skills come into play that you would never have expected to associate with your role as a chaplain. I have used my baking skills to help run a Café Church and get my students excited about a new programme of 'School Feast Day' events. Other chaplains in my area have used their skills in origami, knitting, Zumba, woodwork, poetry slam and their pets to get people excited and engaged with their chaplaincy.
Lesson 5: Include everyone when making decisions.
Placing chaplaincy within the education hierarchy is a hard task. Talking to chaplains in schools, sixth forms and universities proves interesting in terms of where chaplaincy can and does sit. Whether you're a chaplain within a whole team of other chaplains, woven into a department or on your own it is good practice to involve people in the decision making and implementing. When I come to making decisions, I try and talk to a variety of members of staff about it to gain their perspective, to make them feel included and a part of the decision-making process. I have got into the habit of talking openly about decisions so much so that students will actively approach me around the school and ask if I have anything they can contribute their opinion too. I now have a body of 'Chaplaincy Reps' who I meet up with every half term who journey with me down the path of decision making and help me reflect on our previous decisions. It's my favourite meeting of the half term.
Lesson 6: Good 'staff work' is just as important as good 'God work'. 
Whilst at university I took part in a 'retreat in daily life' which was run by the Jesuit Order. One evening, whilst looking at Ignatian spirituality, we were handed a quote which said, "Pray as if everything depends on God, work as if everything depends on you". Since first hearing the quote I've come to discover that many people believe it beautifully captures the Ignatian spirit of giving it over to God in prayer before working hard! I often find myself referring back and reminding myself of this piece of Ignatian spirituality. For me, it helps me link back to Lesson 5 in reminding me that I am a part of a whole team. How I contribute to that team, making sure my admin is done, my targets are hit and that I am a fully integrated member of my school team is just as important as the 'God work' (as my students happily title it) that I am employed to do.
Lesson 7: 'Ad Hoc' chaplaincy doesn't mean you're not doing enough.
Having a 'free diary' is extremely liberating but I have also found it to be the cause of anxiety. Doing things and responding spontaneously to daily events is a kind of 'ad hoc chaplaincy' but this does not mean I am not prepared and not doing a good enough job. Making yourself available is one of the biggest blessings a chaplain can offer people. I need to remind myself of that at times.
Lesson 8: Silence is okay
The old saying goes that 'silence is golden', but it doesn't always feel like that when you're the Chaplain and you have someone in chaplaincy seeking care, support and advice. One of the hardest lessons I've come to learn is that you're not going to have an answer or a piece of personal advice and testimony for every scenario that comes through your door. Sometimes journeying with that person and sharing their hurt and upset with them is just as comforting as a piece of advice. Recently, Leeds Church Institute came into my high school and spent a week with our Year 9 students with their Leeds Listening Yurt. When asked 'how do you know when someone is a good listener?' one student replied "good listeners, the people who really care, don't always have something to say or some smart answer. They're the people who are willing to say they don't have an answer but will journey with you and stick by your side and offer you support anyway". That expresses powerfully that silence really can be okay.
Lesson 9: It's okay not to be okay
'Being a Chaplain is no easy vocation, that's something we don't remind ourselves of often enough' was a comment one of the chaplains at university used to tell us. That's another piece of wisdom I've picked up for the journey and is something I've used to help make myself appropriately vulnerable in my role as a chaplain. Figuring out who you can talk to about your own perspective, including your struggles, and where your boundaries are with people is a really valuable thing to do. Since starting chaplaincy I've become aware of stereotypes about what a chaplain is. It can be easy to soak up comments such as 'Chaplains don't question their faith' and 'Chaplains should have a faith strong enough to not let situations impact them'. But, in fact, I am convinced that it's okay for chaplains not to be okay 100% of the time. I have found talking to trusted priests and chaplains out of my workplace to be invaluable in this regard.
Lesson 10: Have fun!
It's impossible to guess what you're going to walk into as a chaplain. Some events and activities that you do will be serious and challenging, but others are fantastic opportunities to have fun! Being able to have a laugh with my students is the best part of my job. Every assembly I make sure I have an activity where I can get students and staff up doing something funny that relates to the themes of my assembly. Not only do students remember what I was talking about, but they also remember who I am and often seek me out as someone they can talk to when they need it… it links back to being relatable!