Hannah Stone, our Poet Theologian in Virtual Residence, asks how do we contain ourselves when waiting and considers the practice of mindfulness, of being 'in the moment', as a means to finding peace in the small things of the here and now.
Last week, we waited eagerly for more details of leaked news that the lockdown would be relaxed somewhat. When it came, the message to 'stay alert' wasn't as clear and comfortable an instruction as many had hoped for. All sorts of disappointments had to be processed, alongside worry that even the small steps towards opening up society were risky for those now being expected to return to places of work or study. The fact that the devolved nations are hanging on to the earlier message to 'stay home' showed how in our impatience, unity of purpose can be fractured, that interpretations of protecting the common good are contextual. Understanding and empathy continue to be needed when we see people apparently infringing the new rules; we don't necessarily know the full story. So we continue to wait, for hugs, the financial support we need, even (for those of us who garden!) for rain. Most of all we wait for certainty, where there is none.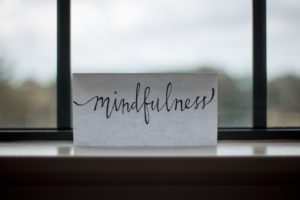 Being 'in the present' has become a familiar mantra for supporting well-being in normal circumstances. The practice of mindfulness, of being 'in the moment', not being mired in past regrets or tangled in anxiety about the future, is advocated as a means to finding peace and contentment in the small things of the here and now. It derives in part from ancient Buddhist practices but is reflected in many forms of spiritual meditation and self-examination. In the light of increasingly worrying levels of mental health problems among young people, school children are being introduced to mindfulness.
I have mindfulness as my companion on my annual (though not this year) retreat in Pembrokeshire when I spend a week alone in a tiny cottage on the cliffs of Strumblehead, near Fishguard. I walk on the coastal path, and write. At night, the bedroom window hosts the rhythmic flashes of the lighthouse, and by day I visit it and just bathe in the beauty of the wild coastal landscape and its inhabitants. This extract of a poem is from my latest collection, Sŵn y Morloi (published by Marsden based Maytree Press).
Carreg Onnen
You can practice mindfulness on an upright chair
and a troop of unwelcome mounts
canter through the stable door:
Broodmare takes the lead,
followed by Mona, while Hope lags in the rear ….
Or try it here, where the wind rides out.
Balance on the headland,
and sync heartbeat to lighthouse.
Flash, wait. Flash, wait, wait.
Flash …
So, how do we contain ourselves when waiting? The priest-poet R. S. Thomas says it so much better than I can. His wonderful poem 'Kneeling' captures the sense of waiting for God, for 'the message'. It ends:
Prompt me, God;
But not yet. When I speak,
Though it be you who speak
Through me, something is lost.
The meaning is in the waiting.
I hope you find some small things today to look at, to listen to, which help you wait. Thanks for spending time here.