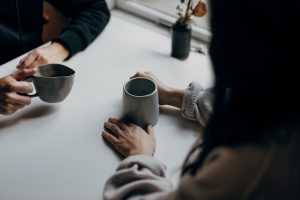 This week (16-22 October) is Challenge Poverty Week. The aim of this week is to create a space for voices to be heard that are all too often ignored. Many of the meetings and conversations I have taken part in about poverty have lacked the voices of those who are currently experiencing poverty. This is a real challenge, but one which we should be sensitive in approaching.
At a recent meeting someone told me that one of the problems in tackling poverty is apathy, particularly on the part of people who are dealing with poverty. This sentiment, which I have heard before, is something which, based on personal experience, I feel compelled to challenge. This does entail a certain degree of vulnerability on my part, but I hope will explain why I believe it is so important that we continue to challenge the status quo, and make sure that the voices of those who have lived experience of poverty are heard and listened to.
My experience of poverty is just that, my experience. It is shaped by the fact that I am a white, well-educated, middle-class man, and as such I know that it is only partly representative of others. Everyone has their own story to tell, and this is some of mine.
I moved to Leeds around 2012, my marriage had fallen apart, I had no house, no job and had moved to city in which I only knew a few people. Apart from getting signed on at the job centre, one of the first things I did was to start looking for a local church. I soon found one, and think it would be fair to say that the friendships I made and the support I received were key to helping me get through the next few years.
I was living in a shared house in Burley, which even with a generously low rent and a very lenient landlord, still took almost half my income, after my housing support allowance.  From memory I had about £65 per week, so after rent and bills this left me with about £20 a week for food and transport. This was assuming that I didn't get hit with sanctions for being late to an appointment. I was almost entirely reliant on buses, so simply getting to an appointment on time would often mean planning to arrive at least an hour early.  Much of my time was taken up with job searches, applications and, if I was very lucky, an interview. Throughout this time I regularly had to make choices about whether I could afford to get the bus to an appointment or whether I should walk across the city and save the money so I could eat properly that week. Not so bad in nice weather, but a real problem in the winter.
Dealing with this week on week very quickly becomes all-encompassing and wearing, leaving very little energy for anything else. I was often very depressed, finding it difficult to get up and face anyone. Talking about ending poverty or making the job seekers process fairer and more accessible were things I knew about, but could not focus on. In some ways they were too close and too unrealistic. I couldn't see how anything I could do or say would ever have an impact. Instead my focus was on the next application, did I have enough money for the bus, could I pay my rent, what on earth was I going to have for dinner. When people who are experiencing poverty seem to be silent or apathetic, it is not because they don't care, but is instead because simply getting through the week is often hard enough.
When I finished High School in 1999, I was given a Bible with this verse from Isaiah 58:11 written in the front.
The Lord will guide you always;
he will satisfy your needs in a sun-scorched land
and will strengthen your frame.
You will be like a well-watered garden,
like a spring whose waters never fail.
Those words have stayed with me ever since, and especially during the few years described above. Without my faith, and without the friends I had in the church, it is easy to see how I could have lost hope for anything better and at times that hope seemed to be very distant and almost impossible to grasp. Singing and taking part in worship helped to keep a sense that there was something more alive in me.
The challenge for us as Christians when we talk about poverty is to be that voice of hope and encouragement to people who are lost in the everyday reality of poverty. To be there sharing that glimmer of hope that there is more to life than this, that my words and experiences do matter, and that change is possible.
This is a major part of my work with Leeds Church Institute as, with others, we work to try and bring an end to poverty in Leeds and across the UK. In my work with disability I have learnt the phrase, "nothing about us without us"; this is also true of poverty. We should not be talking about poverty without the presence and participation of people with lived experience. Going forward my aim is to make sure that there is always a space at the table for those with lived experience, and to ensure that I take the time to listen and learn so that together we can act to bring hope and change.