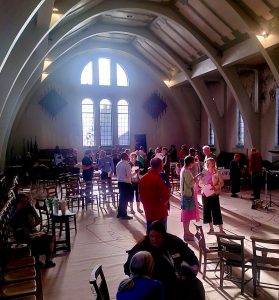 The isolation and loneliness that many people experienced during the Covid-19 Pandemic is sadly a fact of life for people living and working in marginalised communities. This is certainly true for many people and communities in and around East Leeds. Many of the churches in the area have small congregations and little in the way of resources. Many communities feel isolated, and churches are struggling to create safe spaces for communities to meet and connect.
On 11th July over 70 people from across East Leeds, representing more than 30 different churches and organisations, gathered for an evening of worship and reflection. There was a great atmosphere in the church as people joined together in prayer, with a real sense of unity and a heart for God in East Leeds. Listening in to the prayers and conversations in small groups we heard many familiar stories of communities struggling with poor transport and unreliable buses, the closure of shops, and a lack of provision for youth and children.
Despite this, the overall feeling of the evening was one of hope as we met with other like-minded people from across East Leeds. Friendships were rekindled and new friendships started as we talked, worshiped and prayed together.
Here are some of the comments and feedback from the evening:
"It was good to be surrounded by so many others all dealing with similar problems. Made you feel less alone."

"An excellent experience of coming together as God's family with a heart for East Leeds. A time to come together to encourage each other."

"Good bringing churches together to learn from each other regarding community involvement and to encourage each other."

"I felt Wow seeing my brethren physically in this gathering."

"Brilliant lots of energy + Passion and love for the area"
One of the big takeaways was that people want more opportunities to connect in and across communities. Events like East Leeds Gathers help people to realise that they are not alone and that they are able to support each other, not only in prayer, but also by getting involved with and learning from each other.
The evening ended in a powerful display of unity with everyone joining together to say the Lord's Prayer as people sought God's will for East Leeds together.
This was the first of many such events in East Leeds. In addition to in person events, there will also be a facebook group, an interactive prayer map, and a WhatsApp group.  If you would like to find out more and about how to get involved contact Paul on [email protected] or Karen on [email protected]