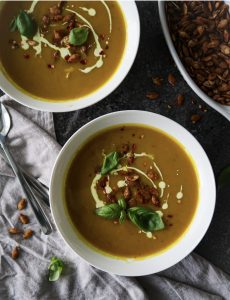 Leeds based artist and food blogger Freda Shafi began working with Leeds Church Institute inspired by an invitation to offer her critique on 'The Way up is Down', a site specific sculpture by Hungarian artist Leon Varga in November 2022.
Following on from that initial conversation with Faith and Creativity Lead, Bronagh Daly, Freda explored themes connected to food and the 'Seeing Asylum Exhibition' hosted in the same month.
One of the images highlighted the hunger strikes of Leeds women detained in an immigration removal centre and compelled Freda to explore the theme of food scarcity in faith traditions.
Over the course of the next twelve months, Freda journey with people and places of faith to explore stories and recipes that unite communities and hosted an immersive art installation at Leeds Minster for Interfaith Week 2023.
Her work helps people and places of faith to engage in our vision of 'learning as a faithful city'. Food, faith and unity helps us to learn more about different and distinct faith communities here in Leeds and how we are connected to origin stories of scarcity and a liturgy of abundance. The food stories and recipes Freda shares from the pitta mela at the Bangladeshi Centre, soup mix bags at a local Catholic church and the Jewish tradition of the seder plate help to inform our interfaith work. We look forward to sharing lots more food and faith conversations with diverse faith communities in Leeds as the project continues.
See the exhibition at Leeds Minster during Interfaith Week 2023
11am-2pm
14th-18th November
Download the recipes and stories shared for the project here
Share your stories and recipes with us [email protected]