For the launch of Leeds Lent Prayer Diary 2021, Thomas Jay Oord asks us to "imagine hope as a verb that calls all of us to join with a God who empowers and inspires us for the good work God wants us to do."
We ask for your prayers for the work of each project to bring new signs of life, hope and transformation to the lives of individuals as well as to the city. 
Thomas Jay Oord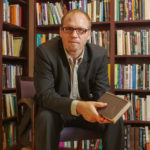 is a theologian, philosopher, and scholar of multi-disciplinary studies. Oord is a best-selling and award-winning author, having written or edited more than twenty-five books. He directs a doctoral program at Northwind Theological Seminary and the Center for Open and Relational Theology. A twelve-time Faculty Award-winning professor, Oord teaches at institutions around the globe. Oord is known for his contributions to research on love, open and relational theology, science and religion, and the implications of freedom and relationships for transformation.
Further reading:  God's Will and the Coronavirus · For The Love of Wisdom and The Wisdom of Love · Thomas Jay Oord