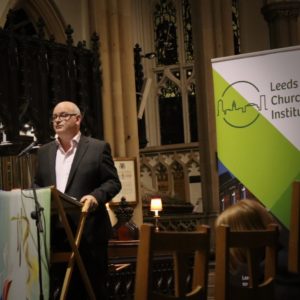 For the 2019 Hook lecture, we were delighted to be joined by Canon Mark Oakley is Dean of St John's College, Cambridge, who spoke on the topic of 'Poets, Prophets & Protestors: The shape of things to come?
Mark is an acclaimed speaker and writer on various issues including poetry, literature, spirituality and human rights. He is an Ambassador for Stop Hate UK, a trustee of the Civil Liberties Trust and a patron of Tell MAMA which counters hate crime. He is the author of many popular books including The Splash of Words and The Collage of God. His latest book By Way of the Heart is a collection of his sermons and a Lent book exploring the poems of George Herbert comes out later this year.
The Splash of Words was recently awarded the Michael Ramsey Prize for Theological Writing.
The Hook Lecture stimulates debate around an issue of faith in the context of Leeds. The event is organised jointly between Leeds Church Institute, Leeds Minster and The School of Philosophy, Religion and History of Science at the University of Leeds.
In response to this year's Hook Lecture Leeds Church Institute will be publishing a collection of poems on the theme of Poets, Prophets and Protestors. Find out more and how to submit your poetry at LCILeeds.org/poems.