The World Reimagined – A journey of discovery in Leeds
LCI would be delighted for you to join us on a journey of past, present and future discovery on a walking trail through Leeds. This trail follows a series of art pieces created to resource our thinking on racial justice. It is named 'The World Reimagined' and is linked to trails in six other cities.
Join Team LCI as we begin our walk on Tuesday 4th October at 2pm at the start of the trail from Norma Hutchinson Park, Chapeltown LS7 3HY with a visit to the Mother Africa Globe. At each globe, we will take time to reflect together our responses to the art pieces and our learning.
You may join us at any point of the trail for as long as you are able to. We will end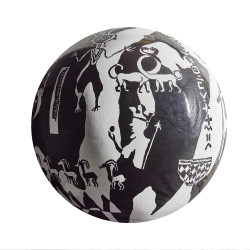 the trail at the final stop of Reimagine the Future – Meadow Lane, Leeds and then on to the LCI Office for well-earned refreshments.  You can keep up to date of our location on the day by following on Facebook or Twitter @LCILeeds, we aim to complete the trail by 4pm. All are welcome.
4th October Route
Start – Norma Hutchinson Park, Chapeltown LS7 3HY
The Reality of Being Enslaved – Lovell Park, North Lane
Stolen Legacy: The Rebirth of a Nation – Merrion Centre
Abolition & Emancipation – Clay Pit Lane Pocket Park
A Complex Triangle – Cookridge Street
Echoes in the Present – Briggate
Community Globe – Leeds Kirkgate Market
Still We Rise – Victoria Quarter
Expanding Soul – Corn Exchange
End – Reimagine the Future – Meadow Lane
Return to LCI Office
Further information on the globes and Leeds route can be found at: https://jod.theworldreimagined.org/trails/leeds/leeds/12
Please drop us a message or call if you would like to attend the trail, [email protected] or call 0113 2454700