Hannah Stone writes "In the last couple of weeks, LCI has provided some marvellous opportunities to engage with creative responses to the experiences of refugees and asylum seekers, first through a zoom launch of the Refugee Realities in Church Art pamphlet (an analysis by Janet Fraser-Smith of stained glass windows in Christ Church Armley), and the Asylum in Art exhibition, put together by Maria de Angelis from Leeds Beckett University."
This touching juxtaposition of audio documentary and suspended photographs show the real lives of women living in detention centres, and, by contrast, their experiences of settling into life in Leeds. The images vividly communicated experiences of living in prison-like institutions; the indignity of being paid a maximum of £10 a week for working in kitchens; having their phones confiscated 'if they had a camera on them;' the stark reality of an empty bed shoved against a bare wall, and the message 'they had no reason to keep me.' One visitor when I was at the exhibitions wondered why, if these people were being given such a good deal at tax payer's expense (as some of the media would have us believe) do some of them go on hunger strike? Other images show the hope and mutual support that a fresh start brings. A young woman hugs to herself a bold yellow wrap, given her by another inmate. A group of women sing joyfully. On describes as 'a resurrection' the opportunity to volunteer.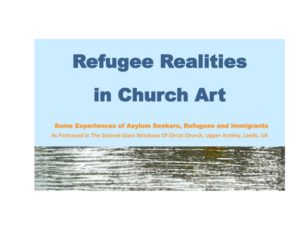 The art pamphlet is a valuable resource for reflection, prompting us to connect the experience of being dislocated, rendered homeless, and vulnerable, with narratives from the Bible, from Exodus onwards. Images are paired with explanations, references to Bible passages and questions for thought, such as 'Hospitality …Behavioural norms vary culturally, particularly in relation to roles of men and women. What is the correct response if one acts differently to expectations? How are new ways learned? Am I able to put aside all the things that distract and really listen to what God might want to say? When is permission required?' This format recalls the Advices and Queries which form part of the evolving foundational writings of the Religious Society of Friends (Quakers), who, rather than having an undeviating creed, invite their followers to question themselves. This poem, by Brian Bilston, poses another set of questions. Make sure you follow the instructions at the bottom of the poem.
Refugees
They have no need of our help
So do not tell me
These haggard faces could belong to you or me
Should life have dealt a different hand
We need to see them for who they really are
Chancers and scroungers
Layabouts and loungers
With bombs up their sleeves
Cut-throats and thieves
They are not
Welcome here
We should make them
Go back to where they came from
They cannot
Share our food
Share our homes
Share our countries
Instead let us
Build a wall to keep them out
It is not okay to say
These are people just like us
A place should only belong to those who are born there
Do not be so stupid to think that
The world can be looked at another way

(now read from bottom to top)