This week our Poet Theologian in Virtual Residence Hannah Stone considers the mutuality of support; honouring the need we have for each other at a personal level, as well as the symbiotic relationship of institutions and organisations.
Last week, the big news was that lone households (of which there are many millions in the UK) were now permitted to form a 'support bubble' with one other household. This further relaxation of lockdown was intended to reduce the burden of isolation experienced by single adults (sole parents of young children, as well as those living totally alone) in acknowledgment that such isolation was causing emotional and psychological suffering. Further reading suggested the new rule would also enable once again the common inter-generational family experience of sharing childcare; there might be mutual benefit. Community life across all religious disciplines entails a sense of 'bearing one another's burdens' (Galatians 6.2); people often comment that humans, whether introverted or extraverted, are essential social creatures, which makes imposed isolation difficult.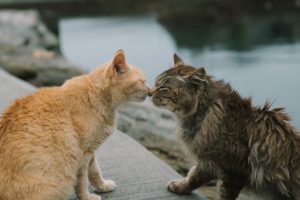 This sociability seems true also of the rest of the animal kingdom, with evidence of creatures collaborating to protect their young and vulnerable, not just in the interests of continuing the bloodline but as some sort of ethical imperative (if we can attribute such activities to non-human animals.) At nesting time, you can see lapwings on open moorland engaging in a distraction technique, mimicking injury to draw attention of potential predators away from nests of fledglings. As a cat-owner I do not need to be told that cats congregate to purr as a means of providing comfort to a distressed member of the family; I have been the beneficiary of much quality lap-time in recent weeks. And attending to my cats' needs has given me a daily opportunity to 'do something for someone else' even when 'normal' human contact and communion was far away.
There is plenty to debate about the logistics of choosing your 'support-bubble', and it may not work for everyone. The mutuality of support, though, is what stuck in my mind. Not only do we need each other at a personal level, but institutions and organisations may have a symbiotic relationship which needs to be honoured. Some years ago a trainee doctor (who is not religious) told me about an example of this they had had observed while working in a children's hospital. A very sick baby was in need of a procedure which might save their life – or risk ending it. The doctor conducting the procedure asked the parent if they would like the chaplain present. The ministry of both professionals was needed and respected. Here's the poem that came out of this example of sharing the care for a frail being.
Liminalities
Green sheet demarcates
the space for two life-savers
to work, each facing the other.
At one end, a chaplain prepare
an infant soul for eternity,
blessed oils anointing
skin so thin
it barely separates
unripe organs from sterile world.
Beyond the protecting veil
the surgeon's tools are sharper,
her hands enacting
the science of prayer
in the rethreading
of a catheter.
As we continue to navigate lockdown, I wonder how we can discern new ways of supporting ourselves and each other.