Sarah Stead from Musicultural Conversations, a project sponsored by Leeds Church Institute with funding support from Leeds Inspired and Open Source Arts,   has written a reflection on the preparations for their Online Workshop for Refugee Week 2020 (15th-21st June).
"Stay at home. Save lives. Protect the NHS."
Covid-19 has put the world at a standstill; coping under the unprecedented measures of isolation has been a catalyst for change. Before lockdown, our Musicultural Conversations project was running sessions on a Saturday morning at The Holbeck. Our aim was to bring together non-native English speakers from migrant communities and engage them in conversational English through the application of dramatic art, music and song, using interactive activities designed to incorporate and celebrate the rich diversity of different cultures within the group. Due to lockdown we had to postpone our final 'in person' sessions. However, understanding our outreach and the community who engaged with this project we realise now, more than ever before, is the time to connect and offer our support.
Covid-19 Action Plan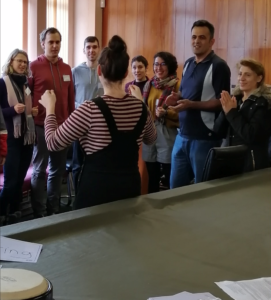 In response to the lockdown restrictions, Leeds Church Institute and the Musicultural Conversations team have been working hard to move this project to an online platform. This has been made possible with funding support from Leeds Inspired and Open Source Arts (via their Arts SOUP micro-grant scheme).
 Our network has been growing and it has been a privilege to engage with various wonderful people and organisations across Leeds offering help and guidance to refugees and asylum seekers, including support to get people online and connected.
 We are delivering our first online session of Musicultural Conversations on Friday 19th June as part the Refugee Week celebrations being coordinated by LASSN. We will then be running four further sessions on Fridays from 3rd to 24th July.
Zooming in – "To mute or not to mute? That is the question."
 We have already faced various challenges in preparing for our first session. Navigating Zoom, communicating Zoom use to non-native English speakers, dealing with audio and video issues which exacerbate language barriers and not to mention the dreaded internet lag which makes it impossible to sing together at the same time! With a positive outlook we have risen to the challenge, pushing through our creative boundaries to adapt our skills and adjust to this new way of bringing people together. Having tested, researched, reworked and tested again we are confident and, more importantly, excited to bring Musicultural Conversations Online to our community in the coming weeks.