2020 Arts and Theology Bursary
For Leeds theologians, thinkers, artists and creatives. Leeds Church Institute is offering twin bursaries of £5,000 over a six month period to a collaborative pairing of a Community Theologian and a Visual Artist.
The vision for this bursary is a shared artistic and reflective engagement with faith, spirituality and city life in Leeds. The period of the bursary will enable a time for dialogue, creation and reflection leading to a presentation of visual arts and written theology that can be shared widely.
The Centre for Religion and Public Life at the University of Leeds will offer academic expertise and support to the theologian, and potentially the artist, with an opportunity to engage in critical conversations about theology and art in the city.
Leeds Church Institute is based in the city centre and works through events, media, the arts and city engagement to support learning for a faithful city. We aim to provoke thinking on faith and justice issues, and nurture innovative ideas and action for the Common Good. Through the bursary scheme, LCI seeks to support excellence and experimentation in the fields of theology and visual arts as part of this wider work and mission.
Grounded in dialogue
In keeping with LCI's aims and ethos, the bursary pairing will agree a specific focus around theology and urban life, diversity and inclusion, climate change or hospitality and sanctuary.
The pairing will then work together, being supportive of each other's endeavours, and drawing on a dialogue between different perspectives.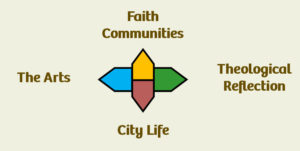 At the end of the bursary period, the pairing will have created a visual art and theology resource that can be exhibited at LCI events and in churches in Leeds.
Applications welcomed from artists and theologians:
With an established practice
At any stage of their career
With a desire to learn, and to develop their skills and practice
In sympathy with the aims and ethos of Leeds Church Institute
Resident, or main residence, in Leeds Metropolitan District
Representing diverse cultural perspectives and those who are differently abled
Application Process
Submit an expression of interest to administrator@leedschurchinstitute.org before 3rd December 2019 
Attend a joint workshop to discuss bursary themes on 10 December at Leeds Church Institute
Complete an application form that references five examples of previous work (artist) or formal theological qualification or equivalent (theologian) to be handed in by 7th January 2020
Short interview with the Bursaries Panel
Assessment of applications will be made on quality of previous work, relevance to Leeds, clarity of vision and potential for pairing
Terms and Conditions
Any offer of a bursary will be made dependent upon
the pairing agreed by the Panel
the agreement of the Panel for a specific focus for the pairing to work on collaboratively
an agreed start and finish date
Bursary activity is subject to
oversight supervision by the Director of LCI
Monthly meetings with the assigned mentor
On-going production of a theology journal or Instagram log
Production of art piece and written work at the end of 6 months
Participation in end-of-bursary event for the display of art and theology for a wider audience
Agreement for final work to be on the LCI website, CITYtheology magazine and displayed at churches and other places in Leeds
Agreement for the final work to be held by LCI for these purposes
The bursary is paid monthly over a consecutive six month period at a rate of £835 per calendar month

The image at the top of the page is The Leeds Triptych by Si Smith and Rob Fry.
Bursary sponsored and supported by Leeds Church Institute 0113 245 4700