2020 Arts and Theology Bursary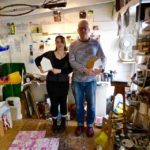 Artist and theologian appointed for twin bursaries.
Leeds Church Institute (LCI) have appointed visual artist Phill Hopkins and community theologian Dr Charlotte Naylor Davis to create visual art and theology resources for the city of Leeds. 
 House of Questions
Charlotte and Phill have been working in partnership since February 2020 for a 'House of Questions' exhibition which will open in November this year.  The project title "House of Questions" reflects their thinking about what a church should be and what home should be.  Charlotte's Arts & Theology Bursary latest blog reflects on a number of thought-provoking questions and shares some of the tools she uses teaching students to study biblical texts: "Get to know your own bias and heart, Listen, Have compassion, Listen more, Be ok with not knowing the answer." 
Phill is documenting the pairing on Instagram.  "At the moment I am working with notions of questions rather than answers, freedom, safety and openness. In light of the present COVID-19 pandemic, these same concerns may be on many of our minds."  Phill would like to thank everyone who sent in video clips asking a question, to form a piece within the "House of Questions".  He has over 100 video clips and work is underway to create the final video piece.
 We are delighted that The Church of the Epiphany, Gipton, Leeds will be hosting the exhibition… more details will be announced soon.
About the Bursary
Through this bursary scheme, LCI is seeking to support excellence and experimentation in the fields of theology and visual arts as part of our wider work and mission.
The Centre for Religion and Public Life at the University of Leeds will offer the pairing an opportunity to engage in critical conversations about theology and art in the city.
Dr Helen Reid, LCI Director
"The vision for this bursary is a shared artistic and reflective engagement with faith, spirituality and city life in Leeds. I am really excited about this collaboration which I am confident will support people of Leeds in delighting in the art as well as thinking about justice and spirituality."
Phill and Charlotte have each been awarded a bursary to fund a six month collaborative pairing. The period of the bursary will enable a time for dialogue, creation and reflection leading to a presentation of visual arts and written theology that can be shared widely.
Dr Charlotte Naylor Davis "Leeds has become my home and I am delighted to have the opportunity to explore its culture theologically. I have an interest in the ability of art to tell hidden stories, to pluck sacred moments out of chaos or violence, to focus us in our experience. These are the things I would like to explore in artistic collaboration."
Phill Hopkins  "I am personally committed to enriching the life of the city of Leeds. My art practice promotes reflection around issues such as truth, identity and belonging and is rooted in playful risk taking and exploration."
 The image at the top of the page is The Leeds Triptych by Si Smith and Rob Fry.
Bursary sponsored and supported by Leeds Church Institute