Arts and Theology Bursary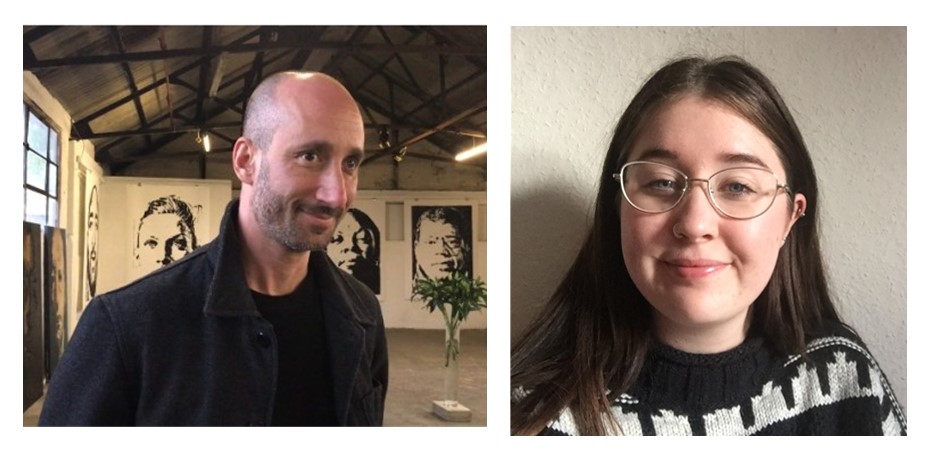 2021 Arts and Theology Bursary
Leeds Church Institute (LCI) are pleased to announce that our 2021 Arts and Theology Bursary has been awarded to artist Leon Varga and theologian Christine Sharpe.  Leon and Christine have already begun to develop their shared focus for the Bursary which runs from 1st March – 31st August 2021.  Here's their first update, with more to follow in the coming months.
Christine Sharpe's  academic studies focussed on Religious Studies and during her years as a student, she also worked as a carer for a young person with special needs. She has a commitment to inclusion and accessibility, and has hopes of gaining employment in the Third Sector. In this vocation, Christine is influenced by Catholic social teaching. Christine is from Liverpool and has made her home in Leeds.
Christine said "I am delighted to have been awarded the Leeds Church Institute's Art and Theology bursary 2021. I have been in Leeds for four years, having completed my Theology and Religious Studies degree at the University of Leeds in 2020. Throughout my time at university, I have been a student ambassador, course representative, and a personal assistant to a young person with learning difficulties. This prompted my interest in accessibility and inclusion, across all forms of life. I am not sure of the ultimate form of this project, but I know these ideas will be at the heart of it, all contextualised within the beautiful city of Leeds. I can't wait to see where it goes!"
Leon Varga is Hungarian and describes himself as having grown up under 'Goulash Socialism'; he has been settled in Leeds for well over a decade. Leon has degrees in Fine Art from Budapest and an MA from Leeds Beckett University. He has worked as an artist and exhibited for twenty years. Leon is also a co-founder of Seagulls based in Kirkstall which is a community arts project that runs a volunteering programme and works with people who are marginalised in Leeds society; and is much affected by Covid restrictions at present.
2020 Bursary – House of Questions
Leeds Church Institute (LCI) appointed visual artist Phill Hopkins and community theologian Dr Charlotte Naylor Davis early in 2020 to create visual art and theology resources for the city of Leeds.  The culmination of this project was the 'House of Questions' exhibition, postponed from 2020, which took place in July 2021 at the Church of the Epiphany, Leeds. 
At the heart of the installation was the question, "If you could ask one question of God or about religion, what would it be?"  It is an immersive and engaging experience which encourages you to find your way to respond to the question.  To find out more, view Phill's Instagram and Phill's short film telling the story of the development of House of Questions .  
In a special edition Winter CITYtheology, Charlotte reflects in some depth on the role of questions and questioning, inviting us to encounter the tension between what we believe and what we are experiencing. It draws on questions asked by Leeds people, and includes church responses to Black Lives Matter, as well as illness and suffering during the pandemic.
Dr Charlotte Naylor Davis "Leeds has become my home and I am delighted to have the opportunity to explore its culture theologically. I have an interest in the ability of art to tell hidden stories, to pluck sacred moments out of chaos or violence, to focus us in our experience. These are the things I would like to explore in artistic collaboration."
Phill Hopkins  "I am personally committed to enriching the life of the city of Leeds. My art practice promotes reflection around issues such as truth, identity and belonging and is rooted in playful risk taking and exploration."
About the Bursary
Through this annual bursary scheme, LCI is seeking to support excellence and experimentation in the fields of theology and visual arts as part of our wider work and mission.  The Centre for Religion and Public Life at the University of Leeds offer the pairing an opportunity to engage in critical conversations about theology and art in the city.
Dr Helen Reid, LCI Director
"The vision for this bursary is a shared artistic and reflective engagement with faith, spirituality and city life in Leeds. I am really excited about this collaboration which I am confident will support people of Leeds in delighting in the art as well as thinking about justice and spirituality."
 The image at the top of the page is from the House of Questions exhibition.