Felt making workshop with textile artist Pippa Woodhams
Come and meet Pippa for an interactive workshop on Tuesday 25th April 5:30pm-8 p.m.
Refreshments and all creative resources will be provided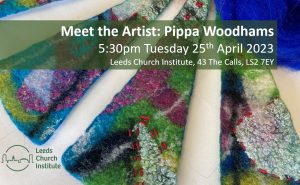 Here we will learn basic techniques of felt making, make a small piece to take away, and reflect on the history and creative possibilities of this ancient craft.
Pippa has a long association with Leeds Church Institute, with whom she ran a series of "Wild City Retreats", bringing nature into the heart of the city, at Meanwood Valley Urban Farm. She newly discovered creativity in her fifties, in a mid-life shift to an Art & Design degree at Bradford College, and went on to practice art psychotherapy in acute mental health settings.
Pippa's geometric shapes, both flat and three dimensional, are fun explorations of colour, texture and space, slowly built up in multiple layers, which aim to stimulate close observation and imagination. The felting process takes time, it is contemplative, encourages metaphorical meanings, and to me is deeply connected to my understanding of spirituality."