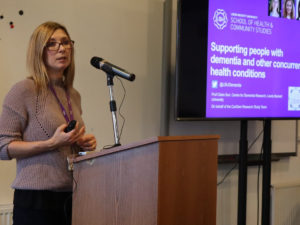 Today's podcast is taken from our recent event for people who live or work with those diagnosed with dementia. Professor Claire Surr presents the finding of a study that the Department of Dementia Studies at Leeds Met University recently completed looking at the support needs of people with dementia who also have cancer. This is an area that has been under-researched, despite the fact that there are a lot of people living with both conditions.
Claire Surr is Professor of Dementia Studies at Leeds Met University. She has over 20 years' experience conducting applied research, teaching and enterprise activities, with a focus on dementia workforce education and training and approaches to improving the quality of formal dementia care.
We will have more talks from the Dementia open day on the blog soon. You can find them here at LCILeeds.org or by subscribing to the LCI Podcast in apple podcasts, stitcher, Spotify or wherever you listen to podcasts.