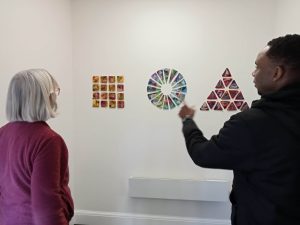 Last week we got to know our Artist of the Month Pippa at a 'Meet the Artist' event. Gathered around her installation at Leeds Church Institute, we heard about her story and passion as a feltmaker and designer.
The event was an opportunity to get hands-on with the craft. Attendees got the chance to explore the tactile medium with small felt pieces passed around the group. Pippa read quotes about the exhibition that the LCI team had shared, and then asked the attendees about their first impressions of the pieces in the room.
The theme of our artist of the month series for the year is friendship. Pippa's pieces explore that theme through her love of geometric design, playing with colour, texture, and space, slowly building up layers to stimulate observation and imagination.
"The felting process takes time, it is contemplative, encourages metaphor, and to me is deeply connected to my understanding of spirituality."
An important element of this piece is that it's mobile – both in the traditional sense of hanging 3D pieces that turn and sway, but the pieces on the wall are also movable, and get shifted round slightly each time Pippa visits. Come and see the exhibition for yourself to find out where they will travel to next! And play with the felt creations at interactive displays.
Pippa discovered creativity in her fifties, in a mid-life shift to an Art & Design degree at Bradford College. She went on to practice art psychotherapy in acute mental health settings. From the late 1970s, Pippa was instrumental in the beginning of the fair trade movement in Leeds, and has been active in peace and justice movements in the churches. She has a long association with Leeds Church Institute, with whom she ran a series of "Wild City Retreats", connecting nature with the heart of the city, at Meanwood Valley Urban Farm.