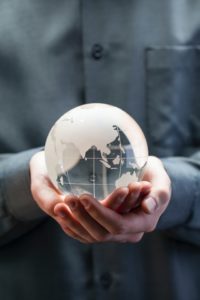 We are headed towards global warming of 3.3 degrees according to Climate Action Tracker.[1] These temperature rises can sound small, but because these figures refer to average surface temperature rises for the whole planet, the effects are huge. 
The Church commissioned by Jesus is called to love its neighbours and care for creation by challenging injustice, and alongside this, to exercise a prophetic call to speak the truth, which today means exposing the dehumanising tendencies of Western culture (consumerism, unrestrained capitalism, individualism) whilst also stirring imaginations for a society in which all can flourish.
Taken from  Autumn 2019 CITYtheology in which Revd Jon Swales and Dr Simon Kittle considered the environmental crisis the world is facing and the role the Church needs to play.
[1] https://climateactiontracker.org/global/cat-thermometer/
Is it too late to act?
This question is really important.  Environmental movements have been about projecting the future. Whilst this can have a really galvanising sense of urgency, there's also the danger that it can generate a narrative of 'it is too late'.
We don't know with certainty what our actions contribute to and what's possible. Can we find grounds for acting in the here and now with justice, with love for our neighbour, even without that certainty that vision of what will survive.  That really requires an act of radical humility on the part of the human.
The Book of Job might be a radical lesson for our time.  The response of God to Job is to take Job on a tour of creation; it's wonder and its fearsome beauty completely outside of the human. 'Have you visited the place where the snow is stored? Have you seen the stores of hail? Have you ever in your life given orders to the morning?'  It really asks us what does it mean to have faith? What does it mean to live ethically in the present when there are really no guarantees about the future? What does it mean to live passionately with this sense of uncertainty?
Taken from Dr Stefan Skrimshire's podcast https://lcileeds.org/climate-change-have-we-left-it-too-late-to-act/.
Here are more reflections on the question 'is it too late to act?' from different faith perspectives:
 https://lcileeds.org/wp-content/uploads/2020/06/20200520-Climate-Change-Qari-Muhammad-Asim.pdf
https://lcileeds.org/climate-change-jewish-texts-and-jewish-tradition/
https://lcileeds.org/is-it-too-late-to-stop-climate-catastrophe/
 The Carbon Conversation Course: Tools for Change
LCI have run a number of Carbon Conversation Courses to help people explore how to reduce our personal individual impact.
Here's what course attendee, Lizzie Pell, said:
"… I believe that this course gives a systematic overview of why we need to change and how we can start implementing these changes as individuals. It equips the group with tools to visualise and come to terms with what low carbon life may look like in the future."
https://lcileeds.org/the-carbon-conversation-course-tools-for-change/