The Christian festival of Pentecost falls this week and Hannah Stone, our Poet Theologian in Virtual Residence, considers this richly resonant event in the life of the church, focusing on how we can interpret comfort and support: the sense of being alongside.
The Christian festival of Pentecost, or Whitsun to use the old English term, falls this week (for western Christians). It's a richly resonant event in the life of the church, marking the descent of the Holy Spirit, ten days after the ascent of Jesus, fifty days after Easter. The Latin text Veni Creator Spiritus, by Ravanus Maurus (766-856), has been the basis for many hymns marking this period. A popular translation of this runs:
Come Holy Ghost our souls inspire,
And lighten with celestial fire
Thou the anointing spirit art
Who dost thy sevenfold gifts impart.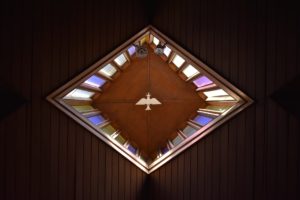 The story in Acts of the Apostles chapter 2 of the Holy Spirit like a mighty rushing wind, and fiery tongues, and the gathered disciples uttering ecstatic speech is one of the most dramatic of many exciting passages in this part of the New Testament. It lends itself to vivid artwork, and the imagery is a gift for poets and theologians! St Ephrem was called 'the Harp of the Spirit'. I am sure you can bring to mind other hymns written for this liturgical period, and pictures 'translating' this extraordinary event. Thomas Tallis (1505-1585), one of the masters of English church music, left us his tranquil setting of John 14. 15-17, the passage which bears the promise: 'If ye love me, keep my commandments, and I will pray the Father, and he shall give you another comforter, that he may bide with you for ever, even the spirit of truth.' In the original Greek, the word translated as 'comforter' is Paraclete, from words meaning 'to call' and 'beside' or 'alongside.' So this is what I want to focus on today: the sense of being alongside, of being comforted in difficult days.
I've used the word 'translation' several times this week, perhaps wanting to explain how we can interpret comfort and support. But, despite the language of tongues and verbal communication, we can actually experience comfort and that sense of being accompanied by a caring companion without any complicated words, just by someone's presence, and that's been sadly missing of late. Since the lockdown restrictions eased a little, I have been very fortunate to start having walks with various friends (one at a time). Despite the possibilities of digital communication, there is nothing quite like the actual presence of someone walking beside you (2 metres apart) in caring companionship. And for some folk, their comforting companions include those who have died. At Pentecost 1978 my twenty year old sister died and (long before I had started studying theology!) I wrote a poem in her memory. I'll leave you with part of it, and the questions 'Who walks with me? Who do I walk beside?'
'Pentecost'
Somewhere, her spirit soars
unfettered
as birdsong at dusk.
Flightless, dry-throated
we merely eavesdrop
beneath new leaves.
Then the spirit stoops
to gather home
all those dragged out of life.
Between the bluebell haze
and darkening sky,
the paraclete hovers beside me.